Born Blind, young woman sees the world one Note at a time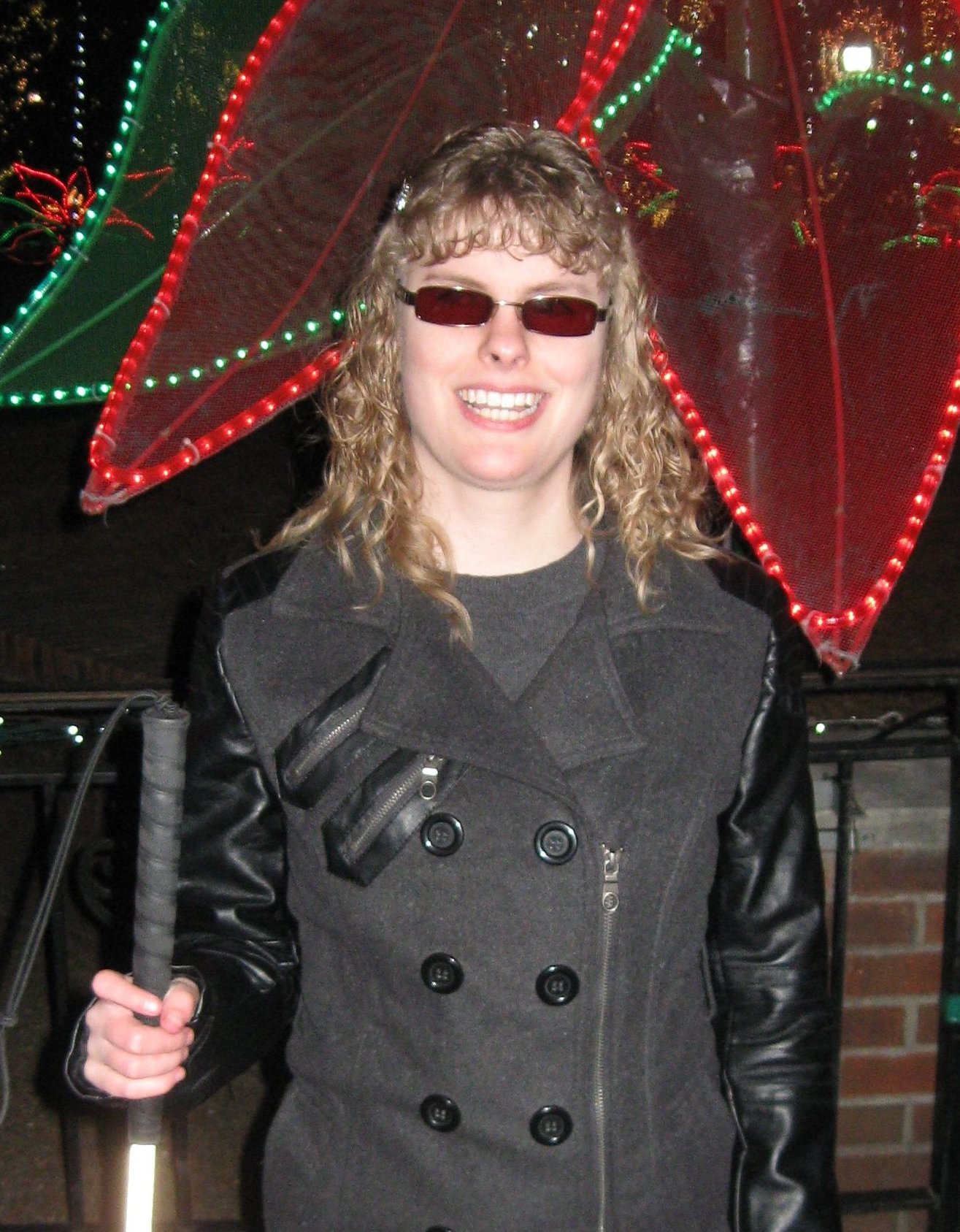 ---
About Myself:
Hi, I'm Emily
I am a 30 year old blind musician. I have been playing music for over 27 years. I started with the Piano at age 4 and the Suzuki Violin method for 10 years, but soon fell in love with bluegrass fiddling. I have the gift of perfect pitch that lets me play about anything I can hear. When I was younger I played the classical violin in two orchestras. I have been playing the Dobro guitar for 20 years and the Violin\Fiddle for 23 years. I knew I wanted to be a Dobro player from the first moment I heard that resonating sound. Some of my early influences are Josh Graves, Brother Oswald, Rob Ikes, Ferrell Stowe, Russ Hooper and of course, Jerry Douglas. Being blind has not held me back. When I'm not practicing, I spend most of my time listing to Sirius XM radio's Bluegrass Junction or to my many favorite CD's.
I live and breathe music. Music is my life.
I love playing and performing with family and friends. I would like to thank them all, especially Wayne Luessen, who always supports and encourages me. I want to give a special thanks to my mom and dad for driving, setting up equipment, music lessons, buying instruments, and for all there help over the years.
Love Emily
---
Our Daughter Emily:
By: Mark & Debbie Hogeback ( Mom & Dad )
Emily was born very early at just 23 weeks and weighed 1 pound, a miracle baby. The doctors told us she had only a 5 % chance of living through the night but she was a fighter, and survived. She was in the hospital for 6 long months. So at 5 pounds we finally brought her home. The doctors told us she may have eye problem because she was born so early. At 8 months after 2 eye surgeries, to try to reconnect her retinas. The doctors informed us she would be blind. When she was 4 years old, Emily started taking music therapy at C.A.B. in Cincinnati.
Which helped develop her interest in music.
She took to music like a sponge. They told us at age 3 that she had the gift of perfect pitch. Emily can tell you the note or cord of any song or instrument as soon as she hears it. She can play about any song on the Dobro or violin as soon as she hears it. She just loved to hear the sound of stringed instruments. At age 4 she started playing the piano, at age 7 she got her first violin and taught herself how to play it. So at age 7 we got her into Suzuki violin lessons witch she took for 10 years. At age 10 she started playing the Dobro guitar after hearing one at a concert. She still is playing one today and has a ball playing it.
When Emily was 12 years she had major back surgery for Scoliosis, curvature of the spine. They put in rods and screws to straighten out her back.
Even though Emily has been through many things, she still has a positive attitude and is a very happy young lady and a excellent musician.
She is a wonderful inspiration to all that see and meet her.
Love Mom & Dad
---
Emily Hogeback
By: Mr. Wayne Luessen
Dear Friends,
I am writing to tell you about a very special "Pickiní Pal" of mine. Her name is Emily Hogeback. Emily is one of the most talented and enthusiastic musicians that I have met in my over thirty years of elementary education and music performance.
Emily has been blind since birth. She began playing the violin when she was seven years old. Emily has studied the Suzuki violin method and has performed classical music on the violin all over the Cincinnati Try-State area. She has developed a love for bluegrass and country music as well and has become a very fine fiddler.
Emily also "plays the fire" out of a resonator slide-guitar called the Dobro. She started playing it when she was ten years old. She has studied with local bluegrass musicians and has spent countless hours learning the styles of bluegrass greats like: Brother Oswald, Josh Graves and Jerry Douglas. She has committed a "library" of traditional tunes to memory. Emily is also a very creative and tasteful improviser. Sheís always ready to throw in a few "hot licks" which makes her performances personal and soulful.
Emily is also taking voice lessons and is developing into a fine singer. Itís quite amazing to hear her perform a ballad like the country classic, "When You Say Nothing At All", and belt out the vocals like Alison Krauss while playing the Dobro like Jerry Douglas at the same time!
Finally (but with Emily there is no finale) Emily has the gift of perfect pitch. She can identify any note and tune strictly by ear. Itís fun to challenge her young audience members to close their eyes and check their note identification skills. We havenít found another kid with perfect pitch, but weíre still looking.
Emily, her Mom and Dad, and I would love to load up the instruments and have a "pickiní party" with you. Our program lasts about a hour and features Emilyís Fiddling, Dobro playing and Singing with my Guitar Accompaniment also with Emily's Dad "Mark" on the Upright Bass and her Mom "Debbie" Singing Background.
We are reserving dates now.
Please call or email to book this inspiring and fun " Emily's Family Band " Program.
All the best!
Mr. Wayne Luessen
513-474-5652 (home)
513-702-0421 (cell)
E Mail wluessen@gmail.com
---
Web Master - Mark Hogeback